I can't start my lesson, and it shown "Server Connection Problem". What should I do?
Before looking into the solution, please make sure:
Your Internet connection is constantly staying online during the exercise
Not using a wireless Internet access
Your browser is cookie enabled
Your personal firewall and/or anti-virus software do not block cookies
If you constantly encountered server connection problem on your computer, please try to add the Super Pilot web site into your trusted list as follows:
For Internet Explorer 6, 7 and 8
Open your Internet Explorer
Find Tools
Find Internet Options...
Find Security tab
Click on the Trusted sites
Click on the Sites... button
Uncheck Require server verification (https:) for all sites in this zone
Type superpilot.wiseman.com.hk under "Add this Web site to the zone"
Click Add to put Super Pilot into the Web sites list
Click OK to exit Trusted sites
Click Default Level button under Security tab
Click OK to close the Internet Options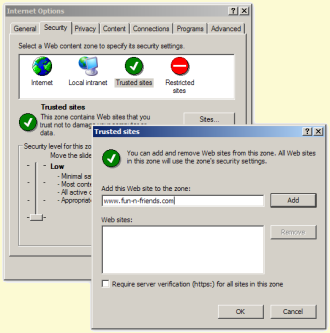 If your problem still exists, please try to stop temporarily the firewall and/or anti-virus software during the exercise.